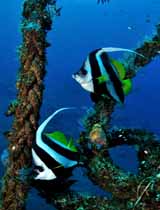 This is an excellent way to refresh skills and re-build confidence if you haven't been in the water for a while.
Refresher courses include a practice session in the pool with an instructor to ensure you are confident with the scuba equipment and skills, then one dive on the Liberty Wreck.
Price: IDR650.000 for 1 dive and IDR1.105.000 for 2 dives.
Note: Refresher courses can be added to dive packages - add IDR390.000 if a refresher is required.

to convert to your preferred currency click the link below:
IDR to USD